Writing Instruments
In order to streamline the ordering process and reduce confusion, we have removed the product pricing from this site. Please choose your buying channel below:
Please visit our Customer Service page to find downloadable order forms or to contact our team directly by phone or email.
Stickpens
BIC Round Stic - Ball Point Pen
BIC Round Stic Pens write clearly and comfortably with smooth flowing ink. It is a lightweight pen with a flexible round translucent barrel for visible ink and comfort.
Stickpen Ballpoint
A round ivory barrel for writing comfort with cap and clip, Medium, Fine or Extra Fine Point with Red, Blue or Black Ink. Cap color denotes ink color. Non-refillable. May be Imprinted - use standard imprinting.
G'Soft Pen
This pen uses revolutionary oil based ink that writes like a gel but has the life of a ballpoint pen. Bright intense ink is waterproof, permanent, fade resistant and archival safe. The self life is 5 years and it comes in .7mm black and blue ink. The pen is non-refillable.
Soft Grip Medium
A Ballpoint Stickpen with a soft rubber grip for writing comfort. The pen comes in medium and fine points and in black, blue and red ink. This pen is non-refillable. This pen can be imprinted.
Mini Stickpen
Courtesy miniature stick pen 7/32" diameter X 4 ¼ "long white barrel. This economical pen is disposable, making it ideal for use in public settings.
Flex Security Pen
The flexible ball point pen is designed for safe use in high risk areas where sharp objects may pose harm to residents or employees. Flexible four inch and is not refillable. Product can be purchased by the dozen or in a package of 100. Pen has black medium point ink.
Rollerball Pens
Liquid Magnus Roller Ball
Roller ball pen with a metal clip provides smooth writing in .5mm or .7mm point with black or blue ink and red ink in .7mm. Barrel has a window to observe the ink supply and end plug indicates the ink color.

Roller Ball Pen
Precision .5mm ball for clean crisp lines. Barrel and cap denotes the color ink. Non-Refillable.
Retractable Pens
Deluxe Retractable Ball Point Pen
Retractable, refillable ballpoint pen. Styled in classic European fashion found in more expensive pens, Barrel and cap made from high impact plastic with gold trim. Burgundy barrel is blue ink, black barrel black ink. This pen is popular for imprinting.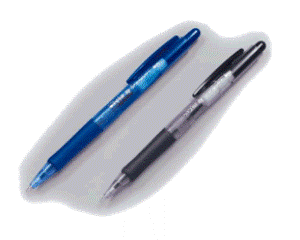 Vista Retractable
Retractable Ball Point Pen has a cushion grip that offers maximum control and comfort. The tinted translucent barrel displays ink color and allows user to monitor ink levels. Has a handy pocket clip and medium point.
Cushion Grip Retractable Ballpoint
Ergonomically engineered for comfort and writing ease. Unique grooved cushion grip provides maximum non-slip and a sure grip. The pens come in medium and fine point and are available in black and blue ink and are also refillable.
Gel Retractable
.7mm gel ink technology provides the permanence of a ball point with the exceptionally smooth write of a roller ball pen. This pen comes in blue, black and red and refills are available.
Essential LVX Retractable Pen
Retractable ball point pen features a translucent barrel for monitoring ink supply levels and uses easy low viscosity ink for easy writing. Includes non-corroding metal tip and push action retractor. Pocket clip indicates ink color and the pen is refillable. The pen comes in black, medium and fine and blue medium ink. This pen is refillable.
Rubberized Anti-Microbial Retractable
Retractable ball point pen features Antimicrobial protection in a lightweight barrel design for easy gripping. Non-refillable ball point pen has a rubberized barrel that matches the color of the ink. Can be imprinted.
Standard Retractable Ball Point Pen
Reliable classic government retractable pen. Solid color indicates ink color. Chrome pocket clip and distinctive band. Refillables available and may be imprinted.
Bio-Write Ball Point Pen
Retractable ballpoint pen is made using corn starch based bio plastic which leaves no chemical residue in commercial composting facilities. Latex free rubber grip provides added writing comfort. The color of the grip and clip denotes the color of the ink. The pen is available in black and blue medium ink. Refills are also available.
Bio-Write Gel Retractable
Bio based, retractable components are 35% bio based and biodegradable corn based bio resin and 27% pre- consumer recycled plastic by pen weight. Latex free rubberized grip to protect against allergic reactions while providing added writing comfort. Grip color indicates ink color. Translucent barrel allows monitoring of ink supply. Product packaging contains 100% recycled material and 35% post consumer material and the pen is refillable. The pen is available in black and blue medium ink.
Twist Cap Pen
Twist Cap Ballpoint Pen
White barrel color, fixed cap with pocket clip that twist to retract. Non-refillable and may be imprinted using standard imprinting. Color of cap denotes the color of the ink. Comes in Blue, Black and Red ink.
Finer Writing Pen and Mechanical Pencils
Aristocrat Gel Retractable
The Aristocrat has gold accents and has a strikingly handsome and contemporary design. The pen has a cushion grip for writing comfort and comes with black ink. Refills are available in black and blue ink.
Aristocrat Ballpoint Retractable
The pen is well designed with a cushion grip for comfort and dependable for everyday use. The pen is black with gold trim and comes in medium black ink. Refills are available with this product.
Ultra Retractable Pen
Ultra Soft Rubber grip with stainless steel body and black styling. Refills sold separately. This pen has a .7mm black ink.
Ultra Mechanical Pencil
Grooved grip with stainless steel body with eraser and .5mm lead. This product is a match for the Ultra Retractable Pen. This product also comes with a refill kit.
Liquid Impression Medium
Clear barrel allows easy viewing of ink supply. Pen has a smooth writing style and compares well to Sanford Espresso. The pen is offered in Black, Blue and Red medium point ink and also an assorted pack which includes 2 blacks, 1 blue and 1 red.
Liquid Impression Ultra Fine
Visible ink supply with a smooth writing style. The pen compares to a Sanford Liquid Espresso. The pen is offered in Black, Blue and Red and also in an assorted pack which includes 2 black, 1 blue and 1 red.
Pencils

Wood Lead Pencils
Wood case pencil with yellow finish and rounded hexagonal shape.
Erasable Red Pencil
Special lead erases clean, stays sharper longer for bookkeeping entries, engineering notations and blueprints.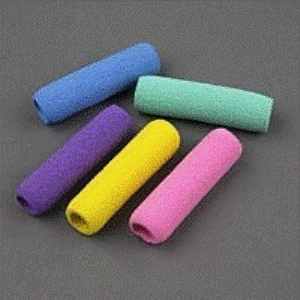 Cusheeze
Five foam rubber grips in assorted colors promote ergonomics and relieve calluses. Fits all standard pencils and stick pens. Each box contains one Cusheeze of each color listed. Does not include pencil.
Standard .5mm Mechanical Pencil
Three full length leads provide smooth continuous operation. Strong pocket clip keeps your pencil with you at all times. This product is not refillable.
BIC Verlocity Top Click
Bic Verlocity Top Click .7mm Mechanical Pencil: Contains 4 per box.
BIC Mechanical Pencil 2.5 Clear Barrel Wood Case
1475 BIC Mechanical Pencil 2.5 Clear Barrel Wood Case. Medium 0.7 mm. Sold as Dozen
Markers and Highlighters
Pocket Highlighters
Packaged in five colors of two each; pink, blue, fluorescent; yellow, green and orange. The tip is a narrow chisel tip.
Ultra Fine Marker
Firm ultra fine tip produces thin accurate lines. The markers come in blue, black and red and are non-refillable.
Pocket Highlighter
Ten fluorescent yellow highlighters per pack. The tip is a narrow chisel tip.
Desk Highlighters
Broad Chisel Tip Highlighters available in three colors: fluorescent yellow, light blue and pink.
Desk Marker
Desk size permanent marker with broad chisel tip. (Not for Dry- Board)
Fine Point Marking Pen
Porous fiber tip produces medium line with permanent ink. Barrel and cap color match ink color. Non-refillable.
Dry-Board Markers Assorted
Expo Low Odor Markers that have a chisel tip and come with four colors one of each red, black, blue and green. Also available by the dozen in black, blue and red.
Low-Odor Dry Erase Markers, Chisel Tip, Assorted Colors
Bright, vivid, non-toxic ink is quick-drying, smear-proof, easy to see from a distance, and provides consistent color quality. Whiteboard markers with versatile chisel tips allow for broad or fine writing. Erases cleanly and easily with a dry cloth or Expo eraser. Ink is specially formulated to be low-odor. Perfect for use in classrooms, small offices, and homes. Made in the USA. Pack of 8 assorted colors including black, red, blue, green, orange, brown, purple and pink.
Sharpie Fine Point Permanent Markers
Permanent quick drying for precise marking on glass, metal, plastic and many other surfaces. Also available in an assorted package of four colors; two of each of blue, black, red and green.
Sharpie Ultra Fine Point Markers
Ultra Fine Point Permanent marker marks on virtually all materials, no smears, and no smudges. Also available in an assorted package of 8 markers of 2 colors each.
China Marker
Non-toxic; marks on metal, glass, or any polished surface. Paper wrapped stick, pull string to expose point.
Other Office Supplies
Revise Correction Pen
Advanced metal tip allows for precise corrections. The color is white and comes with a .7mm tip.
Whistle Clean Whiteboard Cleaner
Dry Board Cleaner Fluid
Computer-Screen Cleaner
Pre- moistened, static free and non-streaking wipes to quickly clean many display screens; including CRT's, laptops, keyboards and mouse.
Clam Clip Hand Held Dispenser & Refills
Clips interchangeable with desk model. Fully loaded with 8 clips. Easy to use and reload. Great for documents to be faxed or copied later. Holds strong but easily removed if needed. Clips are reusable.
Clam Clip Desk Dispenser & Refills
Paper Fastening system uses stainless steel clips to hold up to 40 pages together neatly and securely. Will not damage documents and is loaded with 10 removable and reusable clips.